They came, they saw, and they stayed!
Harel Mallac's commitment to empowering our employees is made manifest in the group of interns who have become full-time employees of our business units.  
Whether they've come to us through the Youth Employment Programme (YEP), university internships, or through our own trainee programmes, we are proud to count these dynamic young people in our team and endeavour to help them fulfill their potentials and grow into accomplished professionals. So, without further ado, come meet some of them at Harel Mallac Technologies, Novengi and MCFI.
Harel Mallac Technologies' mission is to deliver innovative Information and Communications Technology solutions to the private and public sectors in Mauritius and on the continent. By doing so, it helps businesses increase the safety, efficiency and sustainability of their operations.  
Meet the team of interns who became employees at Harel Mallac Technologies
Kumar Paavan BACHOO, System Engineer
Kheshika BETCHOO, Marketing & Communication Coordinator
Nilvanee Valine SHAM, Accounts Clerk
Divya GOOROOCHURN, Administrative Assistant
Jean-Christophe VENPIN, Associate System Engineer
Oushal Kumar Singh NOBIN, Associate System Engineer
Jessica Brenda JOSEPH Associate Customer Service Agent
Havish RAVJEE, Assistant System Engineer
Sanjay Rajendra APPAJALA, Technician
Muhammad Haidar Ali SOOGY, System Implementor
Novengi stands as a partner of the Mauritian business and industry, which it serves with refrigeration and airconditioning, material handling and equipment, among other solutions. Its commitment to engineering our future is backed up by professional and effective accompaniment and after-sales service.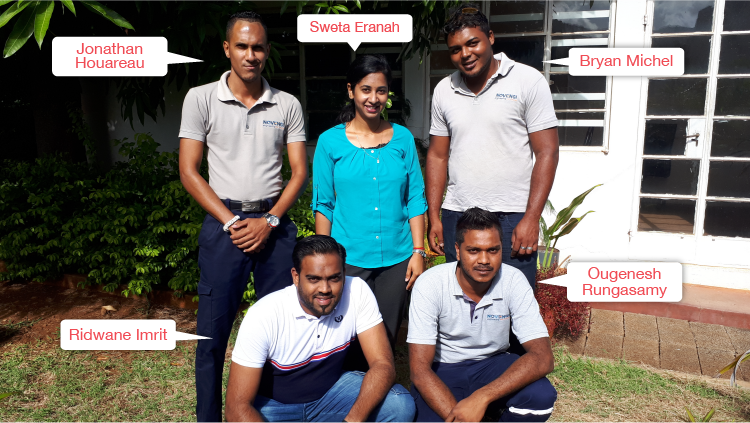 Meet the team of interns who became employees at Novengi!
From left to right in the back row
Jonathan HOUAREAU, Technician Grade 3
Sweta ERANA, Coordination Assistant
Bryan MICHEL, Technician Grade 2
From left to right in the front row
Ridwane IMRIT, Customer Relations Coordinator
Ougeshen RUNGASAMY, Technician Grade 3
The Mauritius Chemical and Fertilizer Industry's contribution to the growth of our country cannot be understated. As the first NPK fertiliser plant on the island, this business unit helped our nation's agro-industry thrive, and turned to the African continent very early on, with branches in Tanzania and Zambia.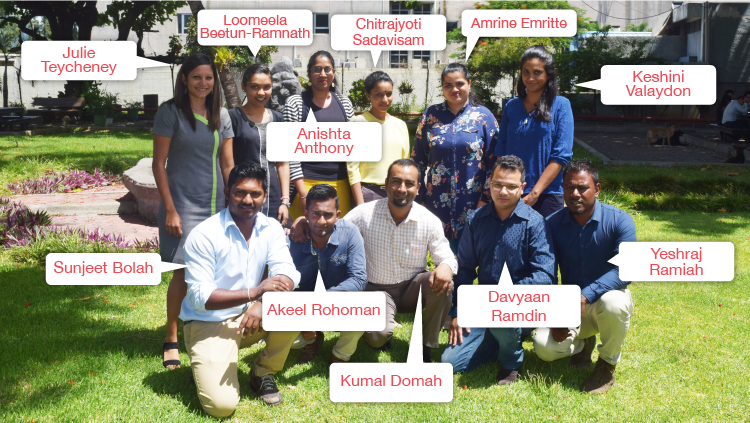 Meet the big team of interns who became employees at MCFI!
Kooshal Balgobin, Technical Sales Engineer
Amrine Emritte, Technical Sales Executive
Sunjeet Bholah, Technical Engineer
Yeshraj Ramiah, Technical Engineer
Davyaan Ramdin, Technical Sales Engineer
Akeel Rohoman, Assistant Technical Engineer
Anishta Anthony, Administrative Clerk
Takeshwar Mudhoo, Sales & Operations Coordinator
Kailashnath Domah, HR Executive
Kamal Sookun, Head of Sales
Julie Teycheney, HR Office
Beetun-Ramnath Loomeela, Administrative Clerk
Sylvain Monty, IT Assistant
Keshini Andini Valaydon, Operations Engineer
You also have a 'can-do' attitude and would like to be part of the Harel Mallac family? Well, watch this space for the latest job openings. Who knows, your photo might be up here soon!