'Little Girls with Dreams Become Women with Vision.'
Sameera Chattun Koyratty, the Mauritian Chapter Lead of Women in Tech Africa (WiTA) lives by these words. Unfortunately, uncooperative work environments and the infamous glass ceiling still prevent many girls from turning their dreams into visions. The obstacles and issues met by women in the ICT field have made headlines of late: limited opportunities, biases, glaring wage gaps and the lack of women in managerial positions mark the ICT sector as one of the least hospitable for women. Women in Technology, a global non-profit organisation, was created to address these issues.
Ahead of the Women in Technology Week 2019 sponsored by Harel Mallac Technologies, we sat down with Sameera to discuss the state of women in STEM (science, technology, engineering and mathematics) fields and her hopes for change.
What motivated you to join WiTA? Could you please tell us how the mission statement of WIT resonates with you on a personal level and how it has helped your career?
One of WiTA's main objectives is to help today's female leaders emerge and become role models for girls. It resonates with me very much, as I have seen myself as a role model from a very young age (with my siblings at home for example). I should add to this that seeing other women reach high-level positions in the industry is a strong motivating factor and WiTA is filled with women who aspire to – or who already are in – that level. This drive to succeed in male-dominated fields (not only in IT but also in several sectors) is something I have felt throughout my career.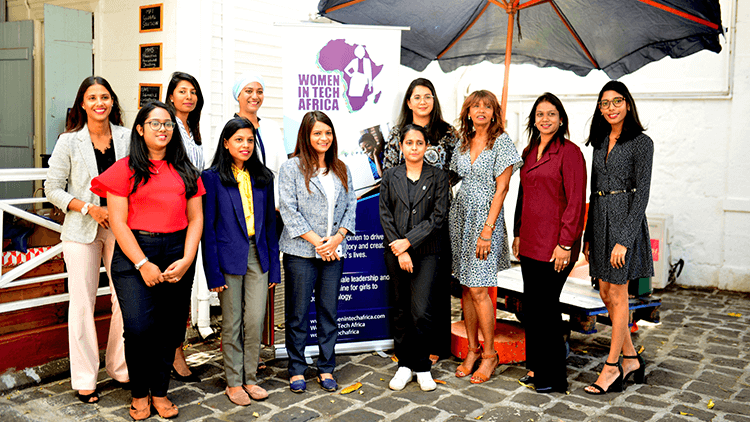 The organisation team of Women in Tech 2019
How is the local Chapter of WiTA active in addressing the issues faced by women in tech in Mauritius?
The WiTA Mauritius Chapter has been organising events on the subject for three years, now. The "Women in Tech Week" is one of our main events of the year, where we gather more than 30 countries around the world to celebrate and share. 
We also organise workshops on specific facets of technology for entrepreneurs, students, and other private companies such as Technology in Agriculture, Tech & Non-Tech Security in Organisations, or the Teach-a-Skill-Day (where we present IT tools and skills that can help an organisation prosper).
Last but not least, we partner with other organisations or associations and hold meetings with government bodies to propose solutions to the issues we wish to tackle.
Could you please tell us more about women working in the technology field in Mauritius: what are the main problems hampering their development?
One of the main problems is that businesses do not see the value women bring in the technology sector. Hence as women and girls in tech, we always need to work harder to achieve the same goal or to be recognised. This also leads to a gender gap in top management positions, thus less female role models. Of course, the "equal pay" issue also contributes to women and girls not being given the same opportunities to grow.
What are the four things that could help break the glass ceiling for women in technology fields today?
Educate the youth, right from the secondary level by giving them proper career guidance.
Find good mentors for women and girls in tech.
Encourage monthly webinars for education.
Create a platform for women in technology sectors to share their success stories and make them accessible to the girls interested in STEM.
Women in Tech Week 2019 is coming up fast! In 2017, the event gathered over 1,000 participants in Mauritius and across the world (virtually). What's on the cards for this edition?
For the first time, we will have both keynote speakers as well as two panels throughout the day. All our speakers are women and girls involved in the tech field and we'll be having a mix of experienced women as well as fresh graduates.
The Harel Mallac Technologies ladies with Sameera Chattun Koyratty
Anything you would like to share about Deidre (Dede) Haskins former President-Elect of WIT International, who passed away recently?
Dede Haskins was among the most influential women in technology and has helped countless young entrepreneurs. I share her conviction that mentoring young entrepreneurs is essential as they are the backbone of our economy.
Any last words for young women wishing to join the STEM field?
'Little Girls with Dreams Become Women with Vision.'
Women in Tech Week will be held on the 11/10/2019 at the Palms Hotel in Quatre Bornes. For more information, visit their Facebook page. 
Bonus: Women in Technology across the Ages
Ada Lovelace, the world's first computer programmer (1817 -1852)
The daughter of the famous poet Lord George Gordon Byron, Ada did not follow her father's path, but instead developed a passion and skill for mathematics. When asked to translate an essay written by her mentor (the illustrious mathematician, Charles Babbage) for one of his inventions called 'the analytical machine' Ada, rewrote the text entirely and added instructions on how to use codes for the device to handle letters and symbols along with numbers. In other words, she created the first instructions for a program.  
Sister Mary Kenneth Keller, the inventor of the BASIC programming language (1913-1985)
Remember those early computer-science programming classes in high school? Chances are you were introduced to BASIC, an easy-to-use programming language invented by Sister Mary Kenneth Keller. Sister Keller was the first woman in the United States to earn a PhD in Computer Science. After founding the Clarke College (a Catholic college for women), she became known as one of the early champions of women in the STEM fields, famously encouraging her students to bring their children to class. 
Joan Clarke, a wartime hero (1917-1996)
Long overshadowed by her colleague, Professor Alan Turing, (the inventor of the Turing machine, the world's first general computer), Joan Clarke's worth and true influence is now immortalised on the silver screen in the movie The Imitation Game. Clarke is famous for cracking code used by German naval officers during World War II, and in the process helped saved thousands of lives. 
Karen Spärck Jones, who helped create the internet as we know it today (1935-2007)
Professor Jones' work allowed users to carry out search terms in a more natural language. In other words, if you are able to use search engines like Google with such ease nowadays, it's due in no small part to Jones' work. She is also famous for coining 'I think it's very important to get more women into computing. My slogan is: Computing is too important to be left to men.'