In collaboration with Check Point, the world's leading provider in Gen V security solutions, Harel Mallac Technologies presented the Security that Prevents Fifth-Generation Cyber Attacks, an advanced threat-prevention and centralised management to protect from today's cyber-attacks during a workshop at Hennessy Park Hotel, on 16 October 2018.
Entreprises are shifting their focus from the perimeter to securing the actual data itself.
As organisations continue to embrace digital transformation, greater amounts of sensitive data are created, stored and transferred in digital form putting more data at risk. Today, the vast majority of enterprises (94%) are using sensitive data in cloud, big data, IoT or mobile environments. Just a few years ago the network perimeter were the four walls surrounding the corporate enterprise, with the emergence of these transformative technologies the perimeter has become dynamic and ever changing. Entreprises are shifting their focus from the perimeter to securing the actual data itself, no matter where it resides.
Securing data in the digital transformation era has become one of the most serious business risks. Thales e-Security's Data Threat Report found that the top motivations for IT security spending included cloud migration at (39%) which tied with the desire to avoid data breach penalties (39%) and was closely followed by compliance (37%). As organizations move to the cloud, it is critical that they consider new security measures to protect their data.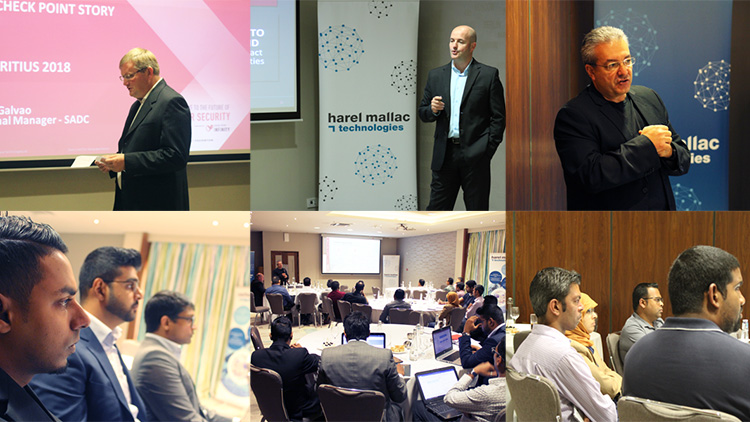 "Generation V large-scale, multi-vector mega attacks spark a need for integrated and unified security structures. Check Point develops a unified architecture with advanced threat prevention solutions that shares threat intelligence in real time, preventing attacks on virtual instances, cloud deployments, endpoints, remote offices, and mobile devices." explained Check Point representatives Filipe Galvao and Tony Da Costa.
Peter Neubert, Senior Manager at Harel Mallac Technologies highlighted that "Cyberwars are already ongoing, and the need for organisations to be prepared is urgent. The Gen V security solutions assist your organisation in tackling the fifth generation cyber security maturity challenges to success with digital transformation."
Harel Mallac Technologies is a direct partner of Check Point – named Leader for the 16th time in the 2018 Magic Quadrant for Enterprise Network Firewalls (ENFW) – for Mauritius and the region.