The year 2018 was a positive one, with a 7% growth in turnover and progress for some of our major divisions. Our first integrated annual report communicates on our financial, environmental, social and governance (ESG) performance for the year 2018. Read on for a summary of our Integrated Annual Report or view the full report by following this link.
Our Business Divisions at a Glance
Equipment & Systems (EO, Linxia and Novengi)
We report positive performance indicators for our Equipment & Systems business unit, with a revenue increase of 0.3bn (to Rs 1.5bn) and profit before finance costs (PBFC) increased by Rs 43m (to Rs 87m). Other positives include the establishment of the Myros TV brand as one of the top-selling brands on the market.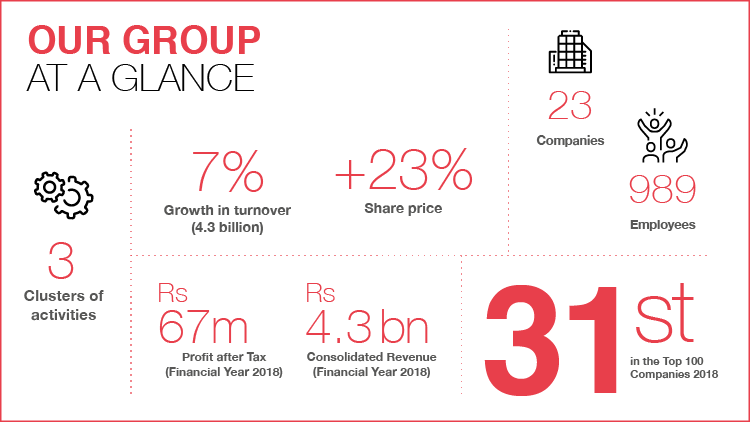 Chemicals (Archemics, Suchem, MCFI Group)
We are pleased to announce that Archemics and Chemco respectively grew their revenues by 7% and by Rs 14m. Challenging market conditions remain, however, for most of the chemicals business units. Management is thus focused on maximising efficiency to better respond to the difficult market conditions these business units are currently operating in.
Travel (Itineris and Harel Mallac Aviation)
Revenue remained stable at Rs 26m, while PBFC fell to a loss of Rs 3m compared to a profit of Rs 1m in 2017, driven by a litigation provisions and the launching costs of PinkMango, an online market place for local activities aimed at the inbound travel market.
Technology (Harel Mallac Technologies and Activeline)
Harel Mallac Technologies once again outgrew the local market by recording an 8% increase in revenue, and based on a Kantar TNS survey, is considered one of the "Top of the Mind" brands on the market. One of the main strategic objectives for Harel Mallac Technologies in 2019 remains market development (in existing countries and across new selected territories in Africa, while upskilling to continue delivering value to our clients across different markets.
Financial Services (Harel Mallac Global and Harel Mallac Corporate Services)
Our Financial services division contributed to Rs 28m in revenues (a 13% growth from 2017). Strategic priorities moving forward remain client acquisition and the expansion of our range of services that we can offer our clients.
Harel Mallac: For the better of our planet
In 2018, we continued improving our energy efficiency through a number of key improvements across our business units. During the year, 5.1% of our energy came from solar panels installed at Archemics(an increase from 2.9% in 2017). The recent completion of a rooftop photovoltaic plant at their site in Pailles is expected to contribute to 30% of its energy consumption in the coming years. The acquisition of Corexsolar International enables us to aim for more projects centered around green energy in the coming years, allowing us to provide energy efficient solutions to our clients.
As we remain committed to improving our performance, we look forward to a fulfilling and productive 2019, and to continue progressing towards our goals for the betterment of not only our group but society at large.
Access our 2018 Integrated Annual Report here.