Early 2017, Archemics embarked on a journey for excellence, with the help of National Productivity & Competitiveness Council (NPCC). This Innovation and Quality Circle (IQC) programme involved the training of 32 participants by NPCC, using quality tools and a "Learning by Doing" approach. Seven cross-functional teams were set up, integrating different levels of personal expertise, identifying problems, finding and implementing solutions.
According to Nidhi Ramlogun, the company's Quality Manager; "The aim of this programme was to encourage innovation and ensure that good ideas became of value to our organisation. Through its implementation, our employees fully embraced the values of Archemics by being proactive, creative and innovative. They were dedicated and really went the extra mile by coming up with projects addressing problems across the organisation and in line with our Group's commitments, namely People, Performance, Planet and Consumer."
In July 2018, the seven teams presented their respective projects, related to productivity and quality through Quality Circles, Innovation, Business Excellence, Productivity Improvement and Lean Management, to a jury panel comprising of members of the NPCC, the Association of Mauritian Manufacturers and Harel Mallac.
Out of the seven, three projects were chosen and awarded, namely :
Team Transformers 2.0, who proposed a solution to improve the packaging of grout,
Team Kaz2part who set up a better-controlled access to the Laboratory and
Team STRES who addressed environmental protection, by reducing water usage and wastewater effluents in the raw materials store.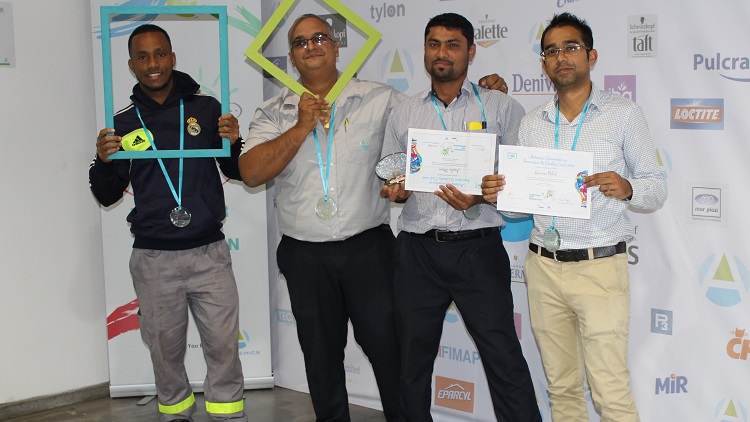 Anthony R. Coombes, Managing Director at Archemics, has been very satisfied with the outcome of this programme; "By placing Innovation at its heart, the Archemics family is prospering from its most important asset- its employees".
And two Bronze Awards at the NPQC 2018!
Archemics' two best projects were de facto selected to participate in the National Productivity and Quality Convention held on the 3rd of August. This competition involved 114 teams from private and public organisations who showcased projects that would bring higher productivity, quality and innovation in their operations. Both Archemics' teams brought home bronze awards for their exceptional productivity and quality improvement initiatives.