After having contributed to the development of the local agricultural sector, the Mauritius Chemical and Fertilizer Industry (MCFI) moves further and steps into the world of modern micro-scale agriculture. In August 2017, the company inaugurated its greenhouse.
Made by the people for the people
The construction of MCFI's first greenhouse was initiated mid 2016 and a couple of months ago, in August 2017, it saw the completion of this project. Not a mere commercial one but a "homemade" greenhouse made from scratch by MCFI's own people under the leadership of Kamal Sookun, Head of Sales / Distribution at MCFI.
While members from the Ground and Maintenance department at MCFI and from the Water Treatment department at Chemco were the main contributors, they were greatly helped by many others volunteers from the companies based in the Fort George compound for the building and setting up of the greenhouse which extends over 120 square metres on MCFI premises, in Fort Georges.
"Several varieties of crops are already cultivated in the greenhouse: tomatoes, ladyfingers, lettuces, cucumbers and broccolis, among others."
Recycling as much as possible
One of the pillars of this home made greenhouse project, was to make use of as much recycled materials as possible. Hence, charcoal was recycled from the NPK-plant to be used as the growing medium and plastic from the large bags used for storing bulk fertilisers was upcycled to cover the greenhouse's platform. As for the storage of the charcoal and the mother culture, which is the concentration of fertilisers to be used, 25 litres and 1,000 litres capacity containers were provided from Chemco.
Why a greenhouse?
"Since its creation, MCFI has contributed a lot to the agricultural sector in Mauritius and a greenhouse is a symbol of a modern agriculture", explains Kamal Sookun adding that one of the objectives of this greenhouse is to be used it as a research and development plant where new fertilisers can be tested.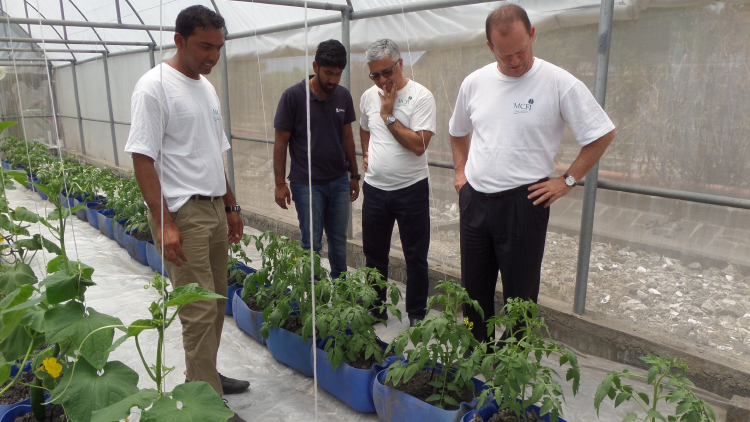 Vegetables sold at symbolic price
Several varieties of crops are already cultivated in the greenhouse: tomatoes, ladyfinger, lettuce, cucumber and broccoli, among others.
If the greenhouse can be visited upon request (Call 216 3965), the harvest itself is sold at a symbolic price to all the employees of the compound.
This inspiring initiative is creating a lot of interest from members of the public and the staff at MCFI, always happy to provide advice, is already receiving calls on a daily basis for tips on greenhouse fertilisers and cultivation techniques.